Blog
Matteo Vegetti
Mayana Kollai
Then, one night we were having dinner and some friends of Katya and Armin joined us: "excuse us if we are late, but we just bumped into a festival full of butterfly men!". One of their friends, Knut, a university professor with a vast knowledge of India introduced the Mayana Kollai festival to me: "They have built this huge sand statue of a pregnant woman representing a demon that they are going to destroy later on during the night". "A lot of people will be drunk", they warned me but I decided to go and take some photos of the festival anyway. What follows is an account of what I have experienced, my personal point of view, it doesn't claim to be a reliable and researched description of Mayana Kollai (that can have many different representation), so bear with me and if you are an expert in this particular field please contact me and I'll amend my mistakes.
I arrived in Pooranakuppam at around eleven pm and headed towards the sand statue. My rickshaw driver would wait for me at the fringes of a bigger area, where a lot of temporary shops, stalls and restaurants had been built for the occasion. The sand statue had been built next to a temple where a lot of people were pushing to get a sight of the deity of the inner sacrum, I let them fight to get a good view and headed to the sand statue instead.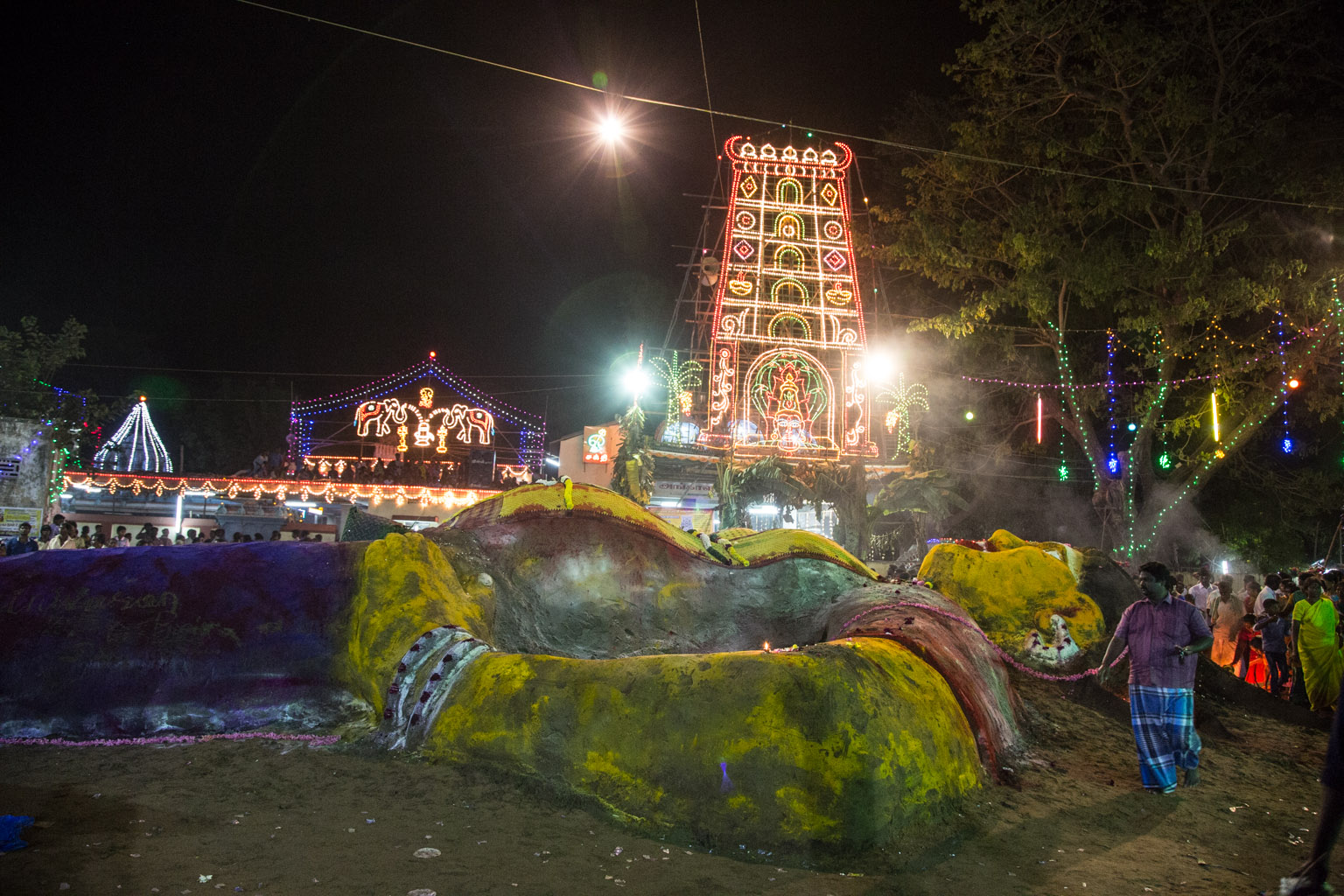 Around it an ever growing number of people was surrounding it, while a few devotees were circling it clockwise, giving alms at the head and feet of the demon/woman, where fires had been lit. Watching this movement from a few steps away, there were the infamous "butterfly men": from what I could gather, these are dressing like ancient king to fulfil a special wish, hoping the gods will be benevolent to them. Some of them spend as long as one year to create their costumes.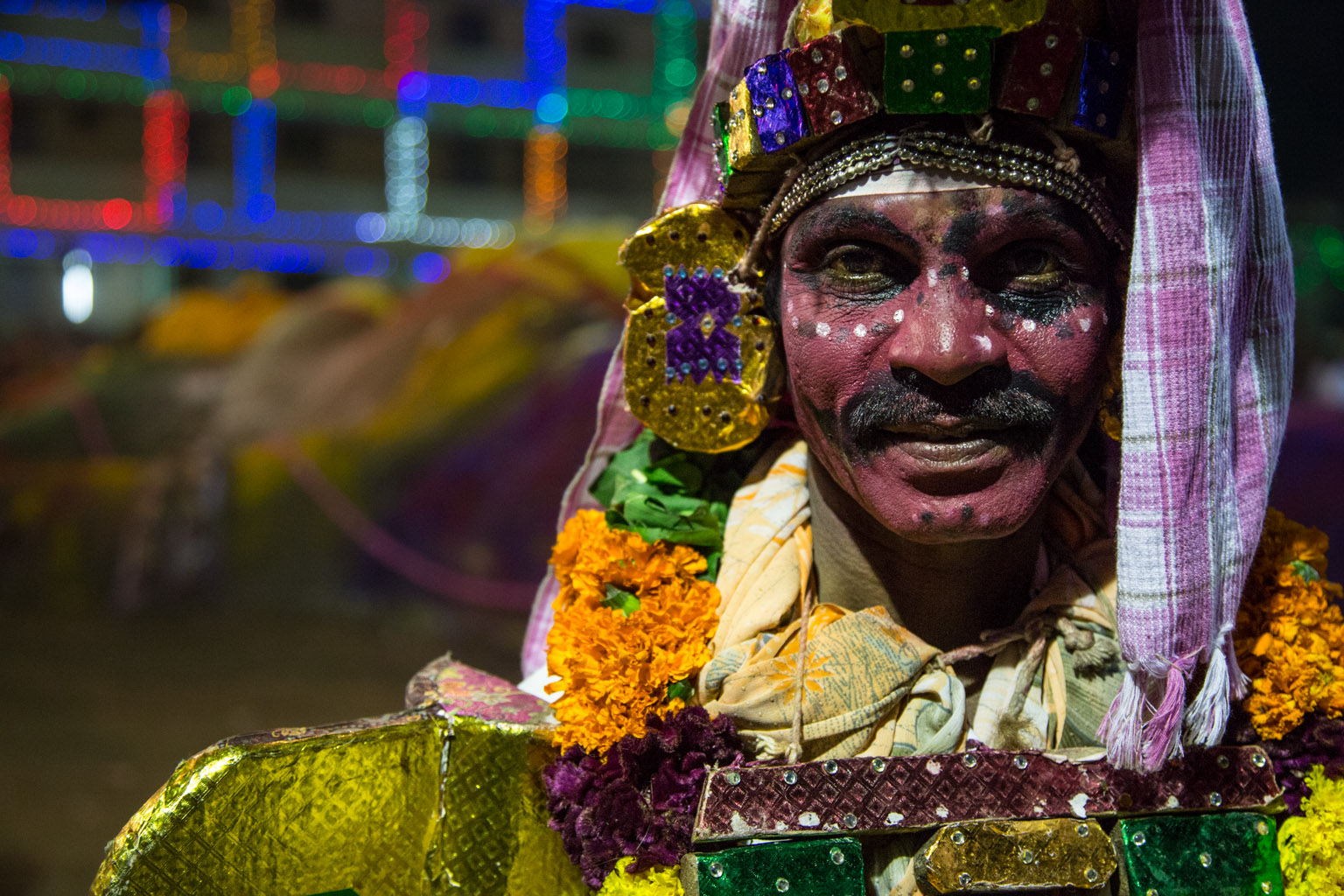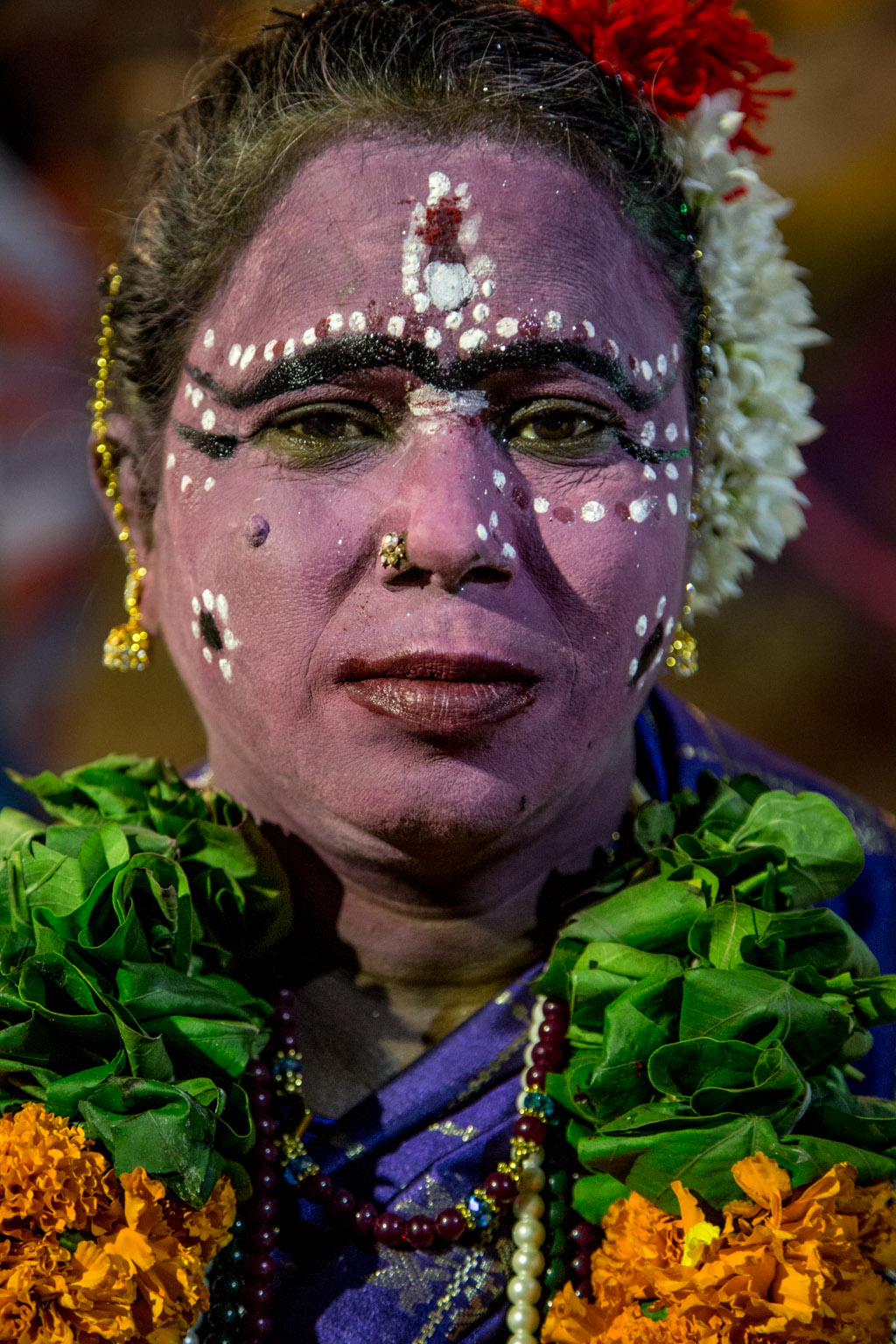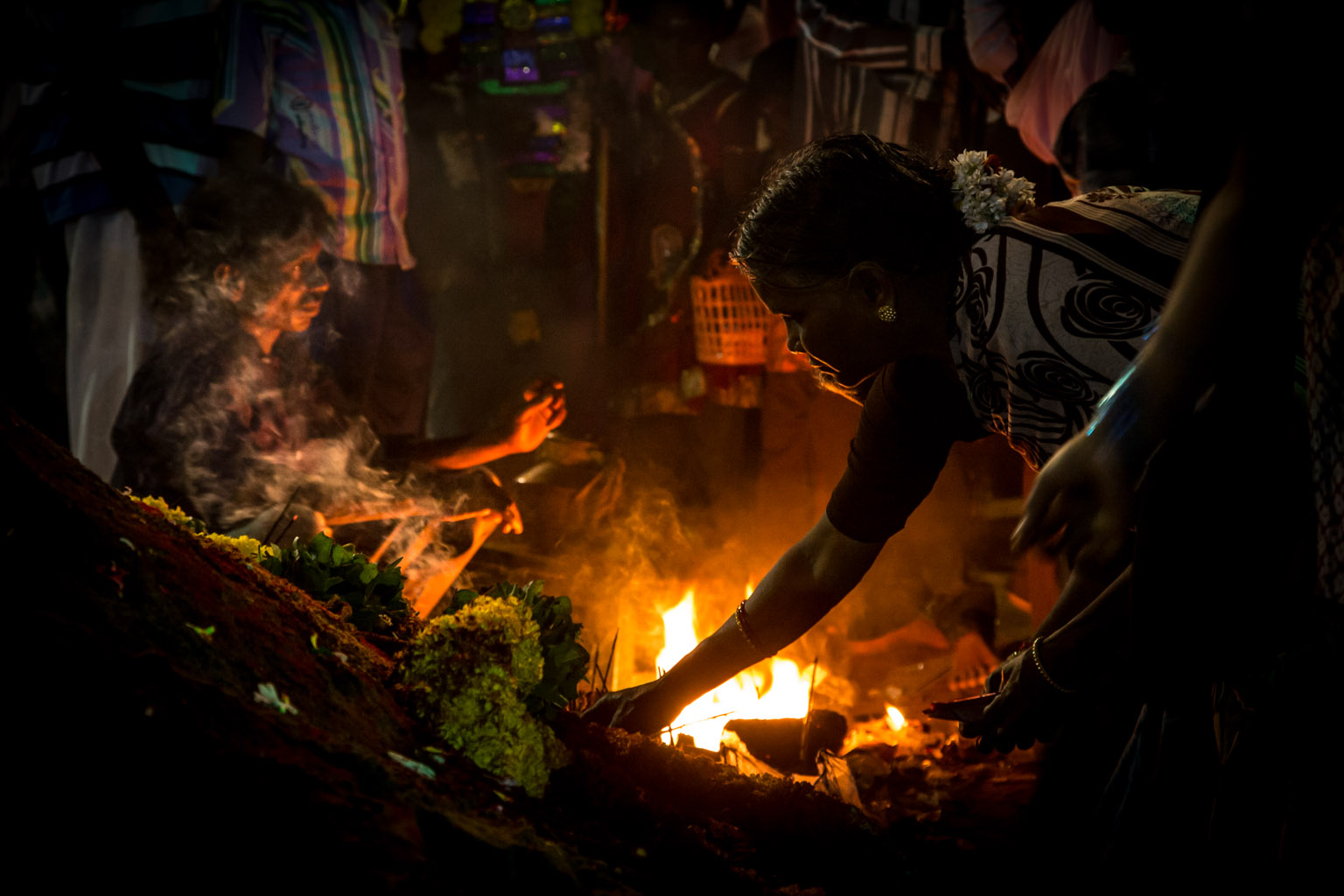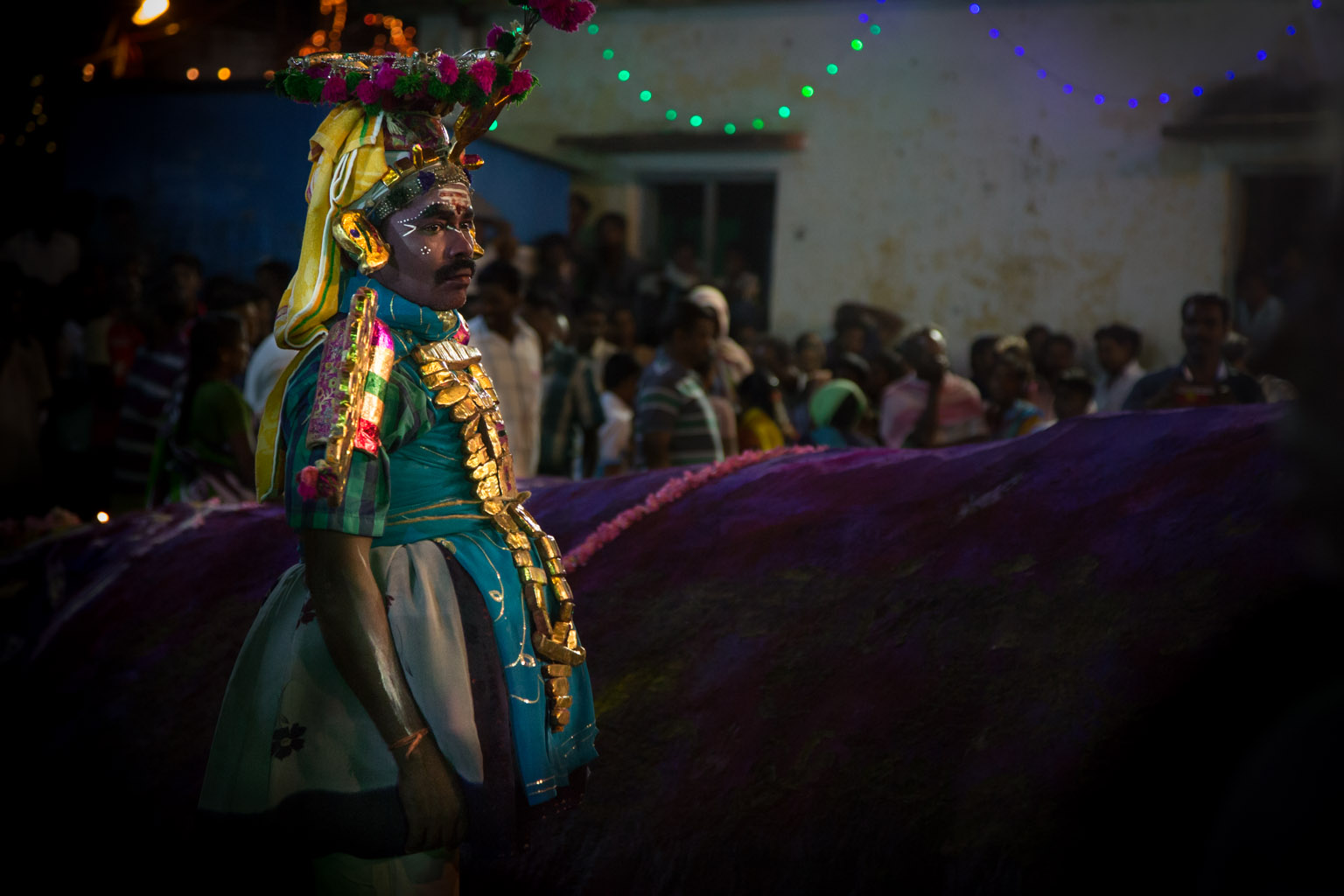 As the time went by, the quantity of people around the statue kept increasing: women sought protection behind some makeshift barriers, drunkards that wanted to be photographed became more and more frequent and a lot of people took a lot of interest in my protection warning me of how hectic and dangerous things would turn out to be in the next few minutes.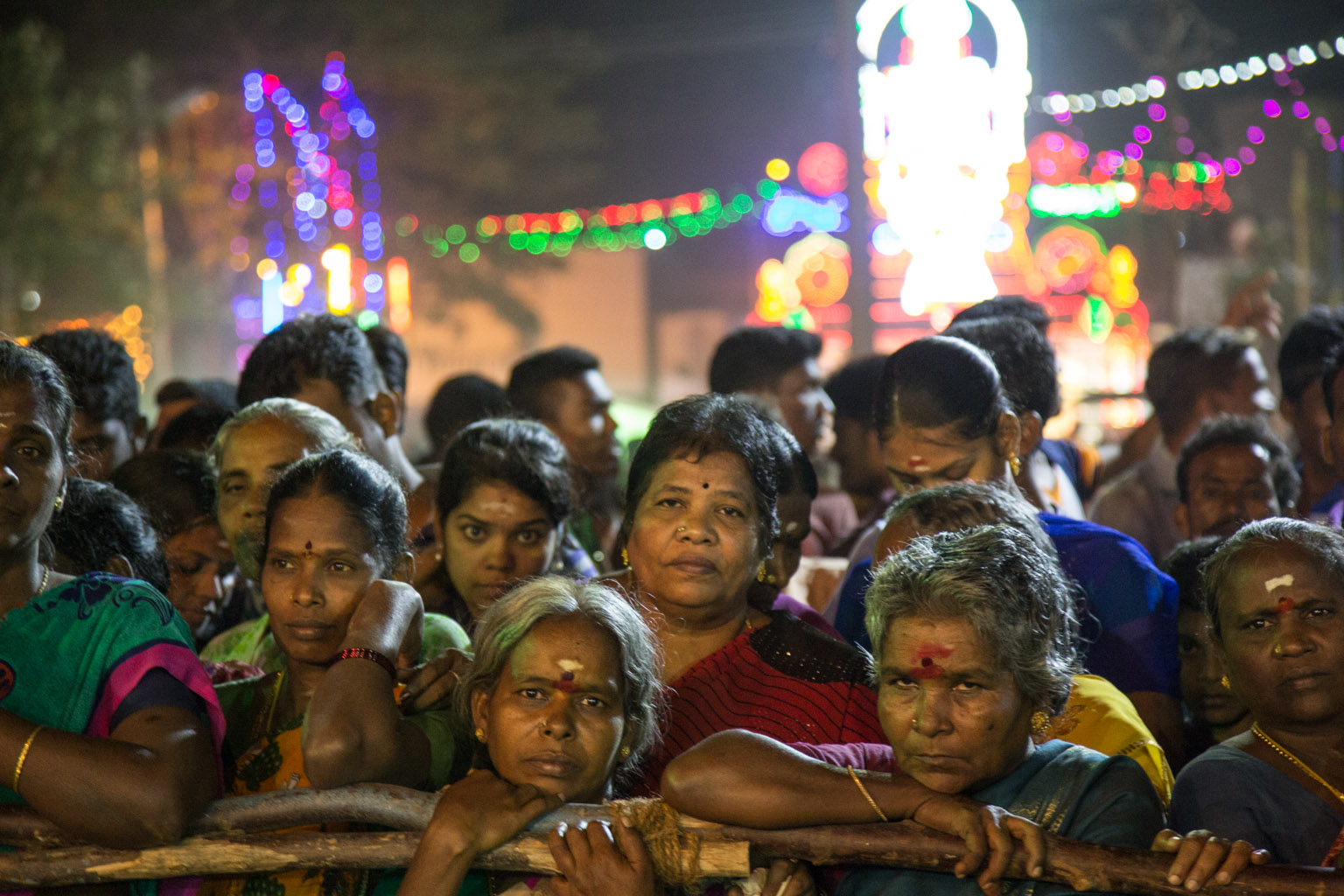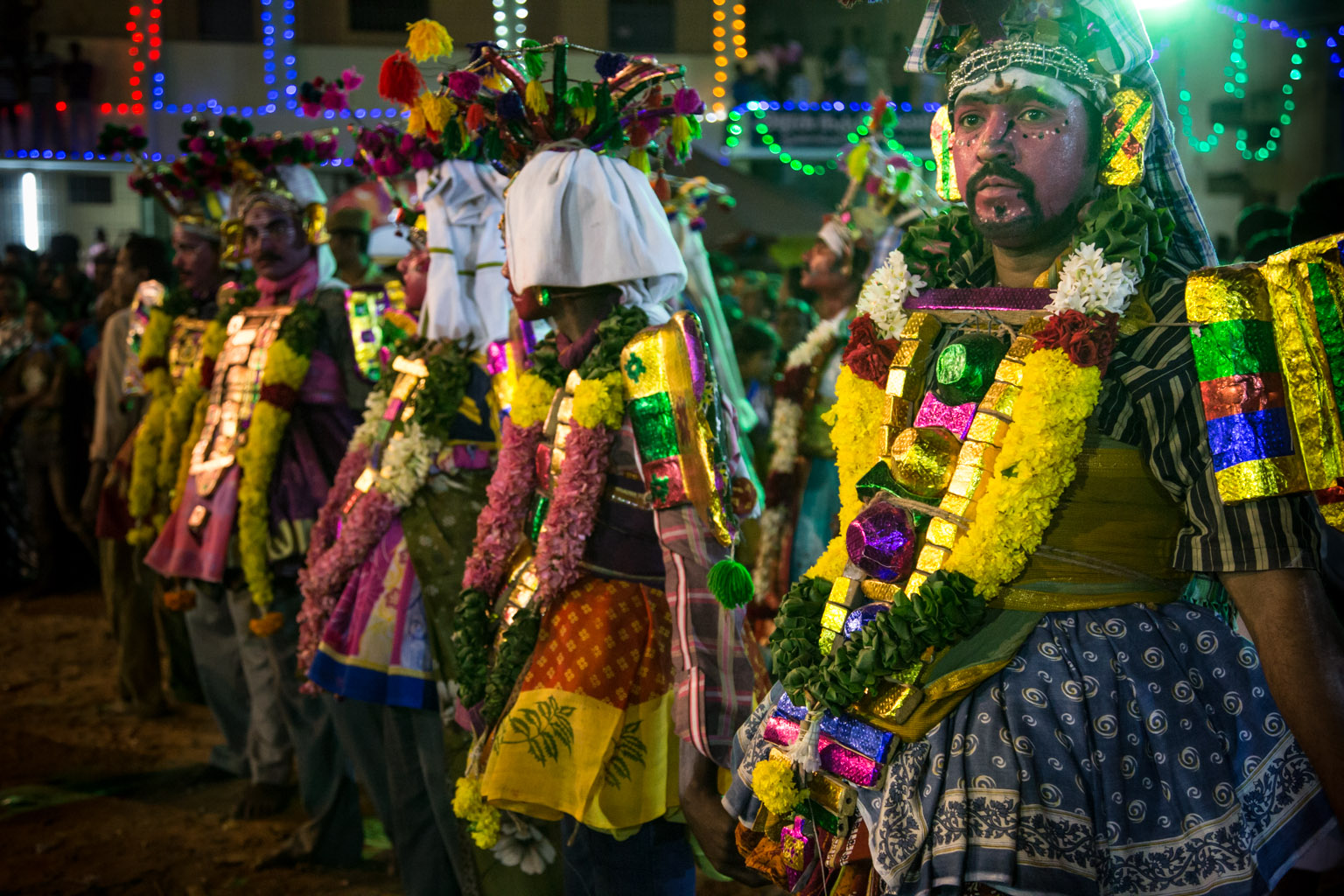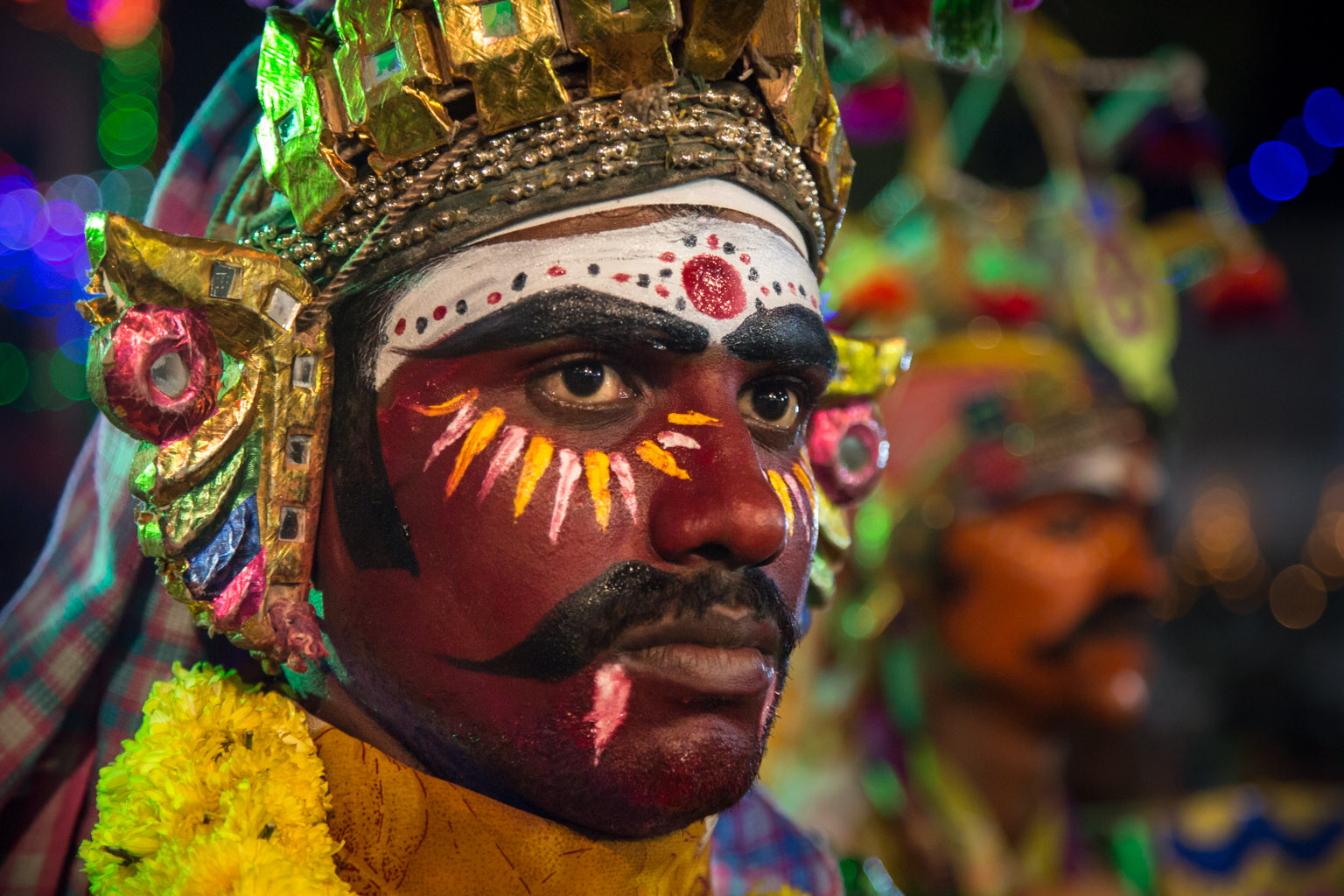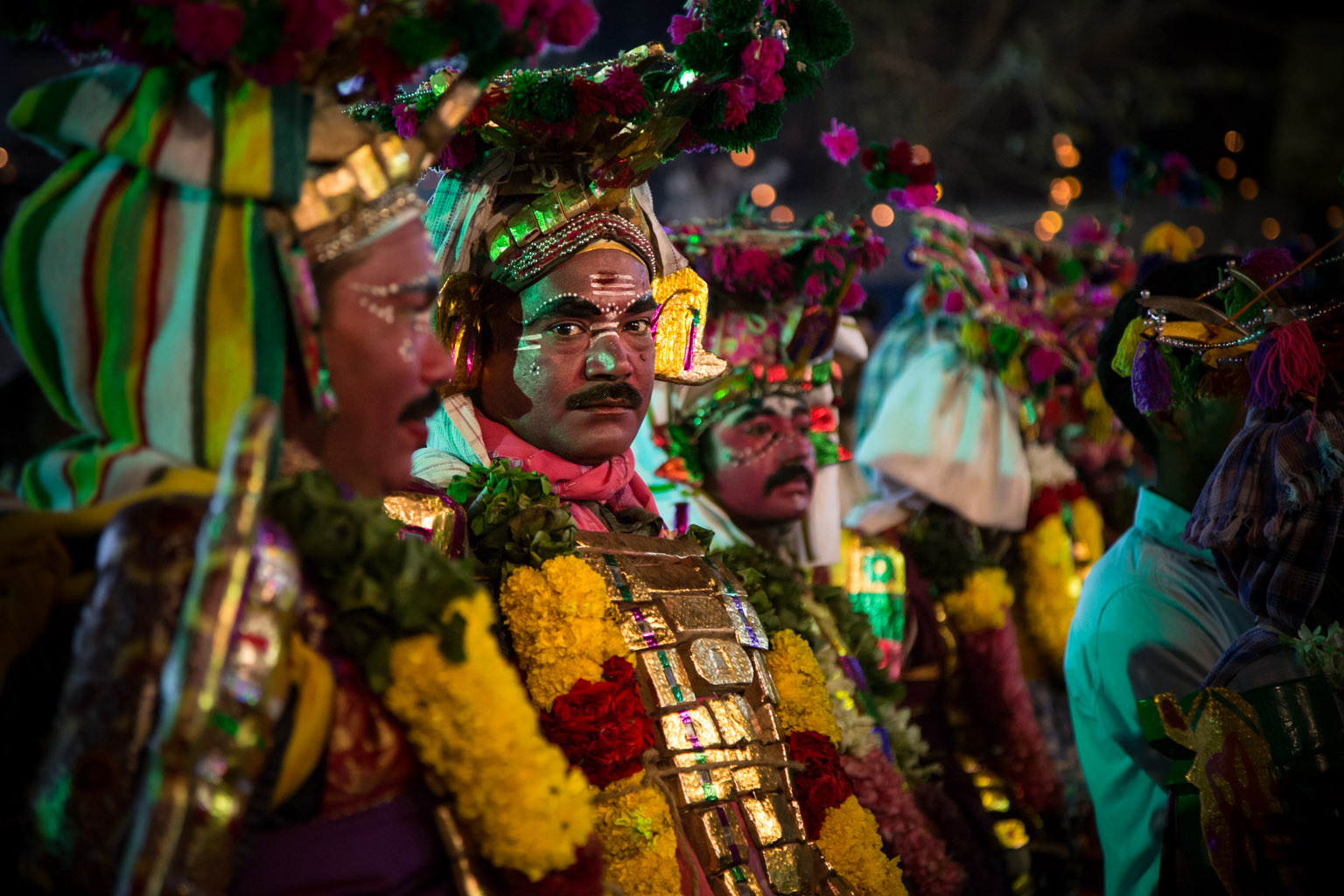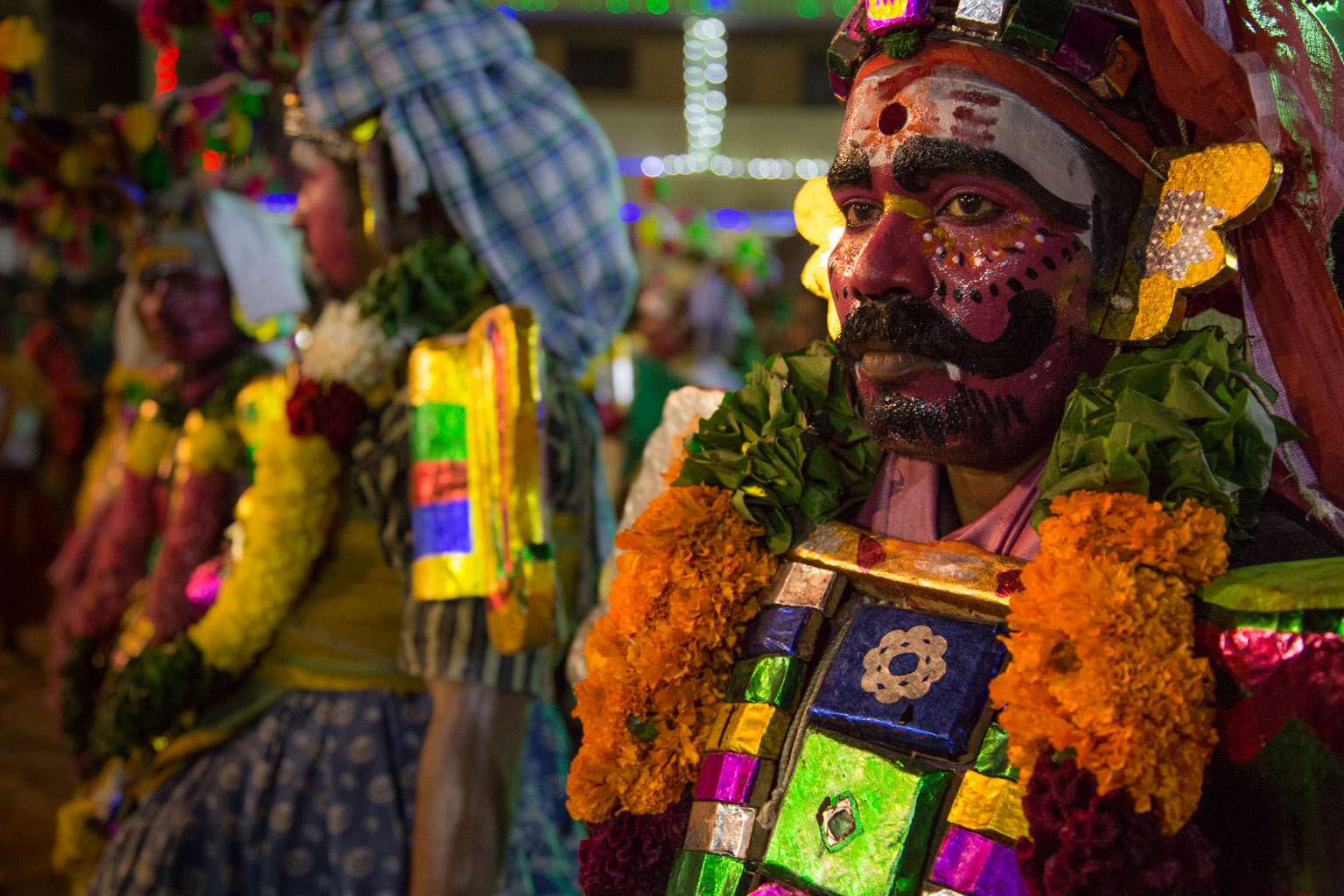 As next to the sand structure there was barely any space left, a lot of people had to climb trees and buildings to have a better view.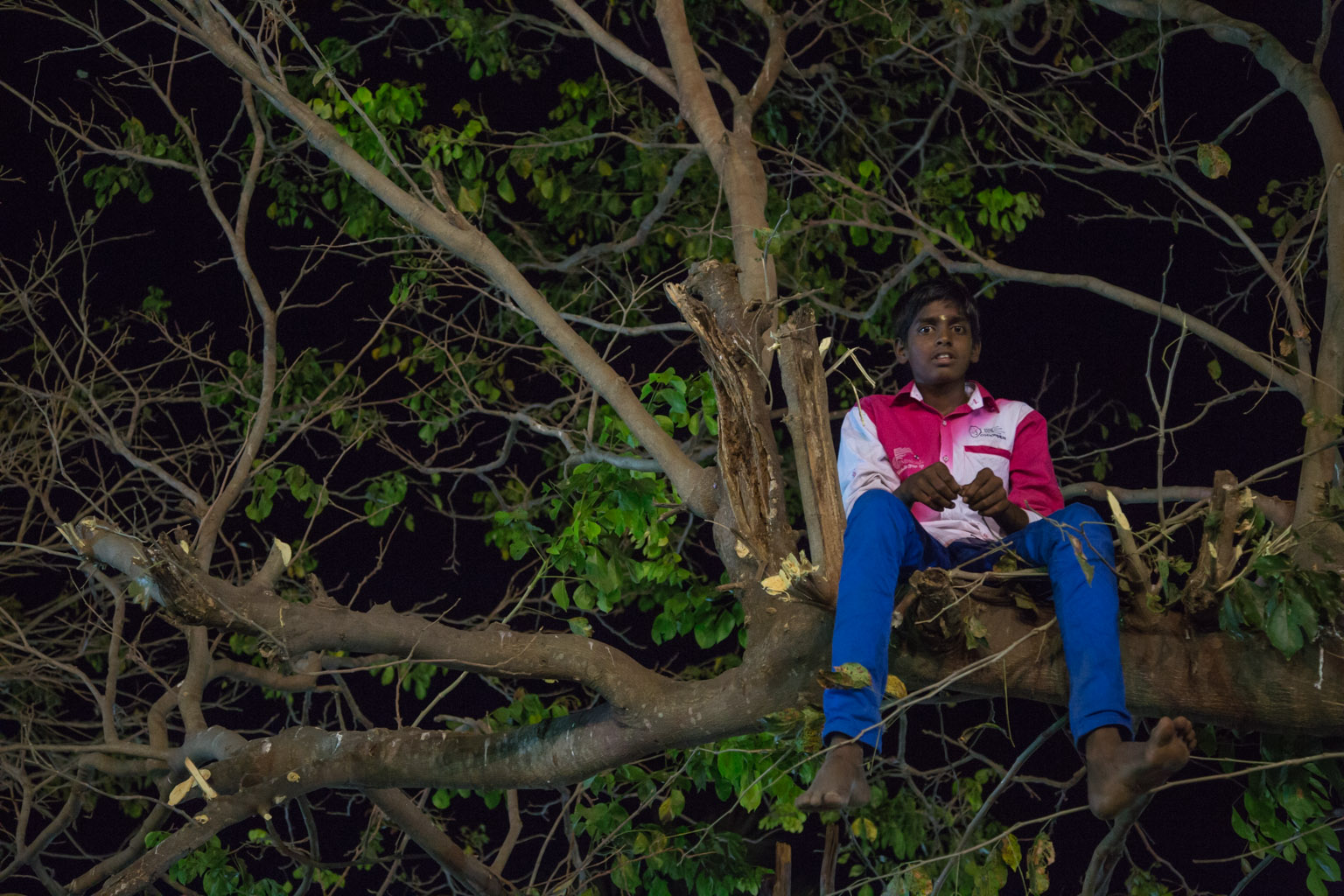 At around 23:30, the king-devotees started cordoning the statue holding each others' hands and looking very serious, then two brightly decorated chariots were pushed by the head and feet of the statue, trying to run over the biggest number of people in the process.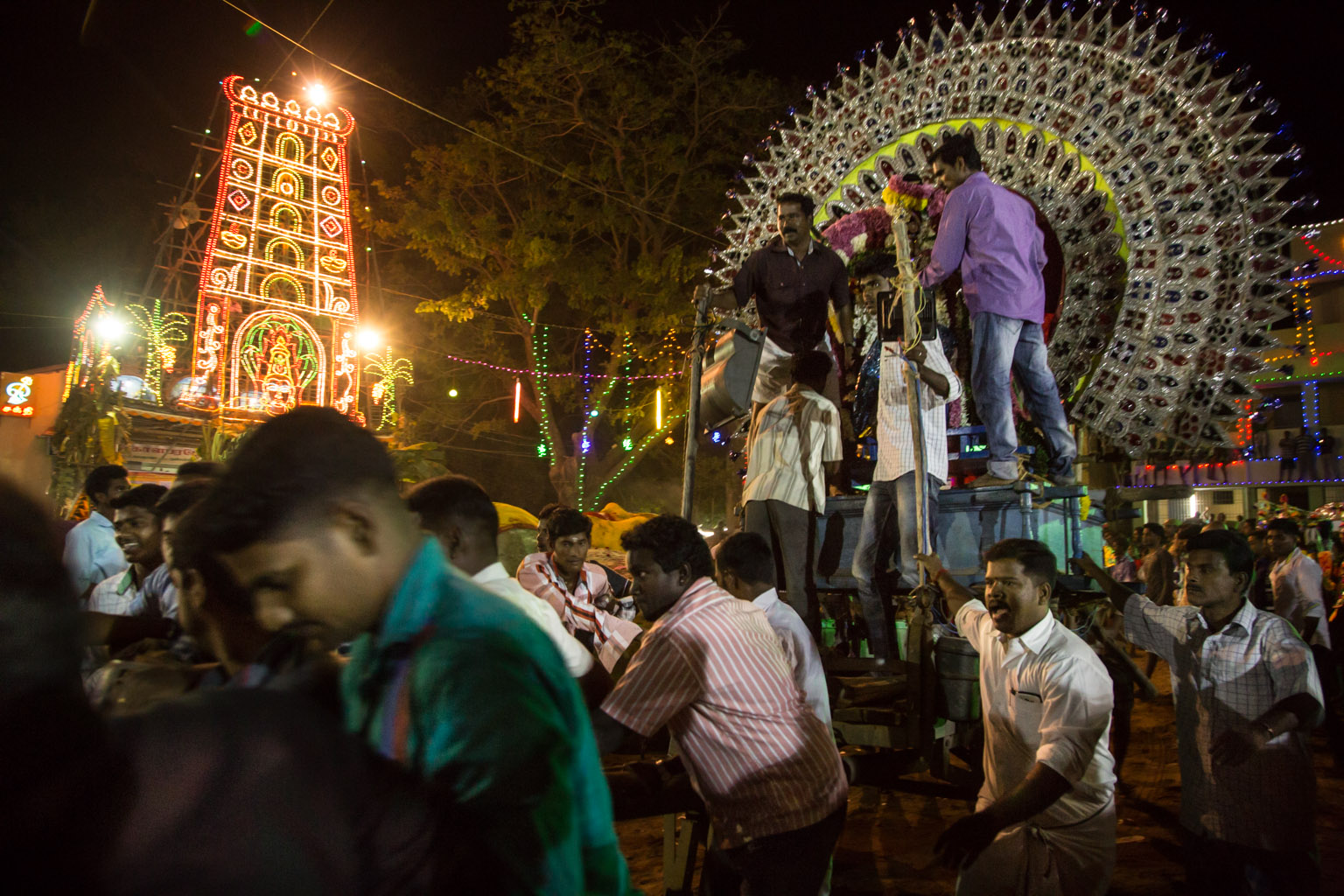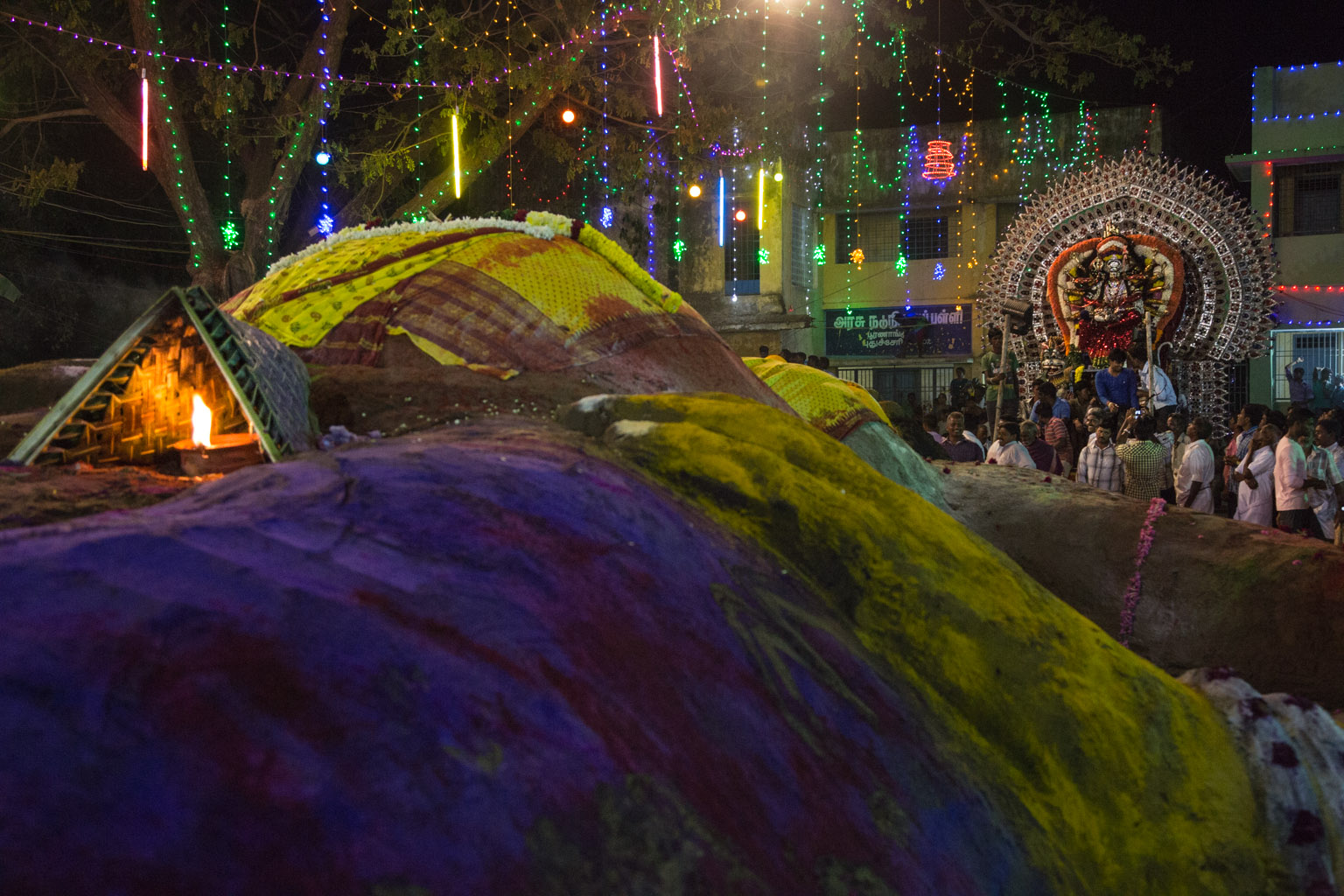 The situation started to become really hectic, with a lot of people were pushing me aside and others self-appointing themselves as personal bodyguards of the only foreigner around. When the two chariots were positioned at the extremities of the statue, two opposing figures emerged from the mass of the devotees. One of the "kings", in a semi-unconscious state, was brought on top of the pregnant belly by two man. At the same time, a black clad figure was made to sit on the side of the statue, next to one of the giant hands.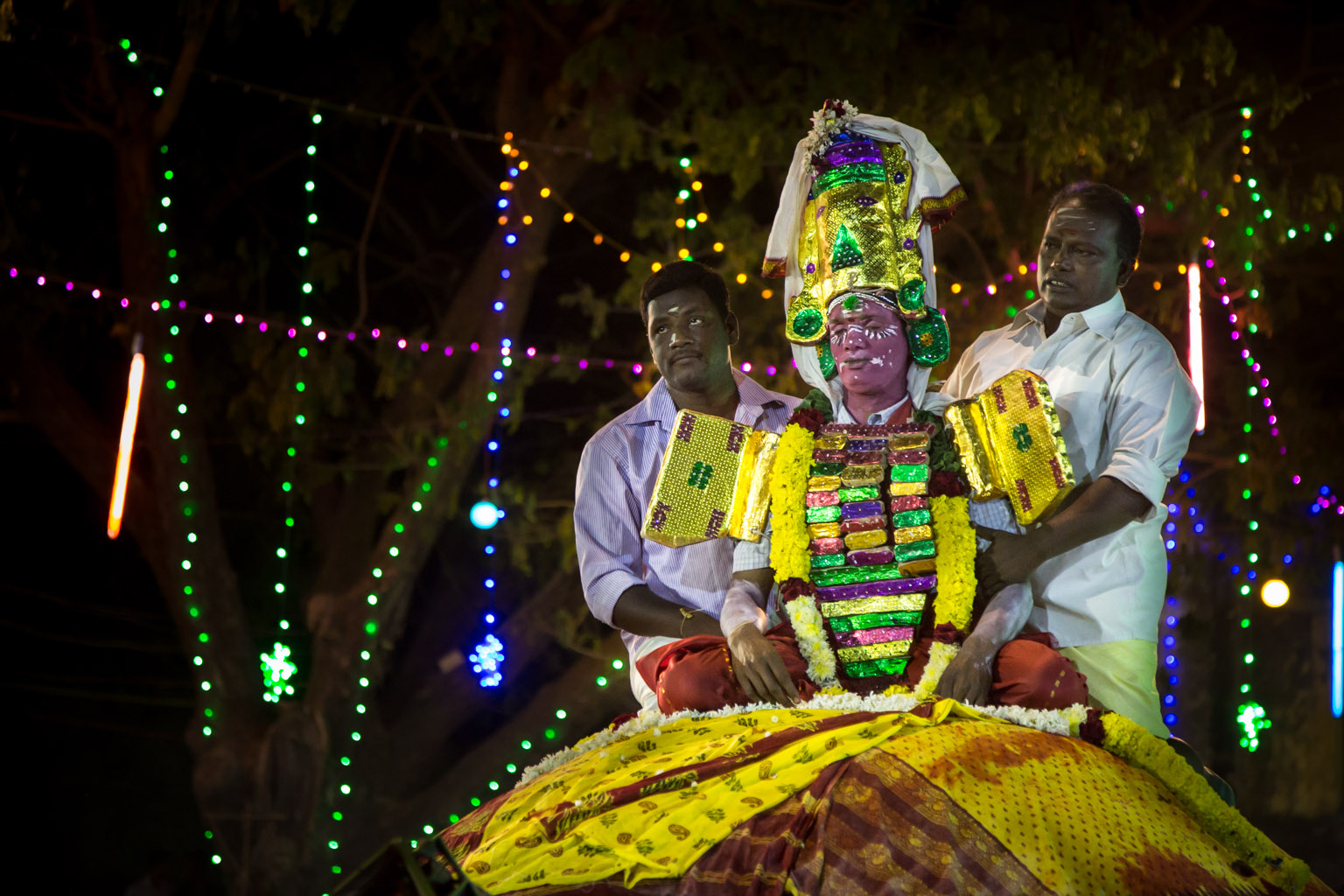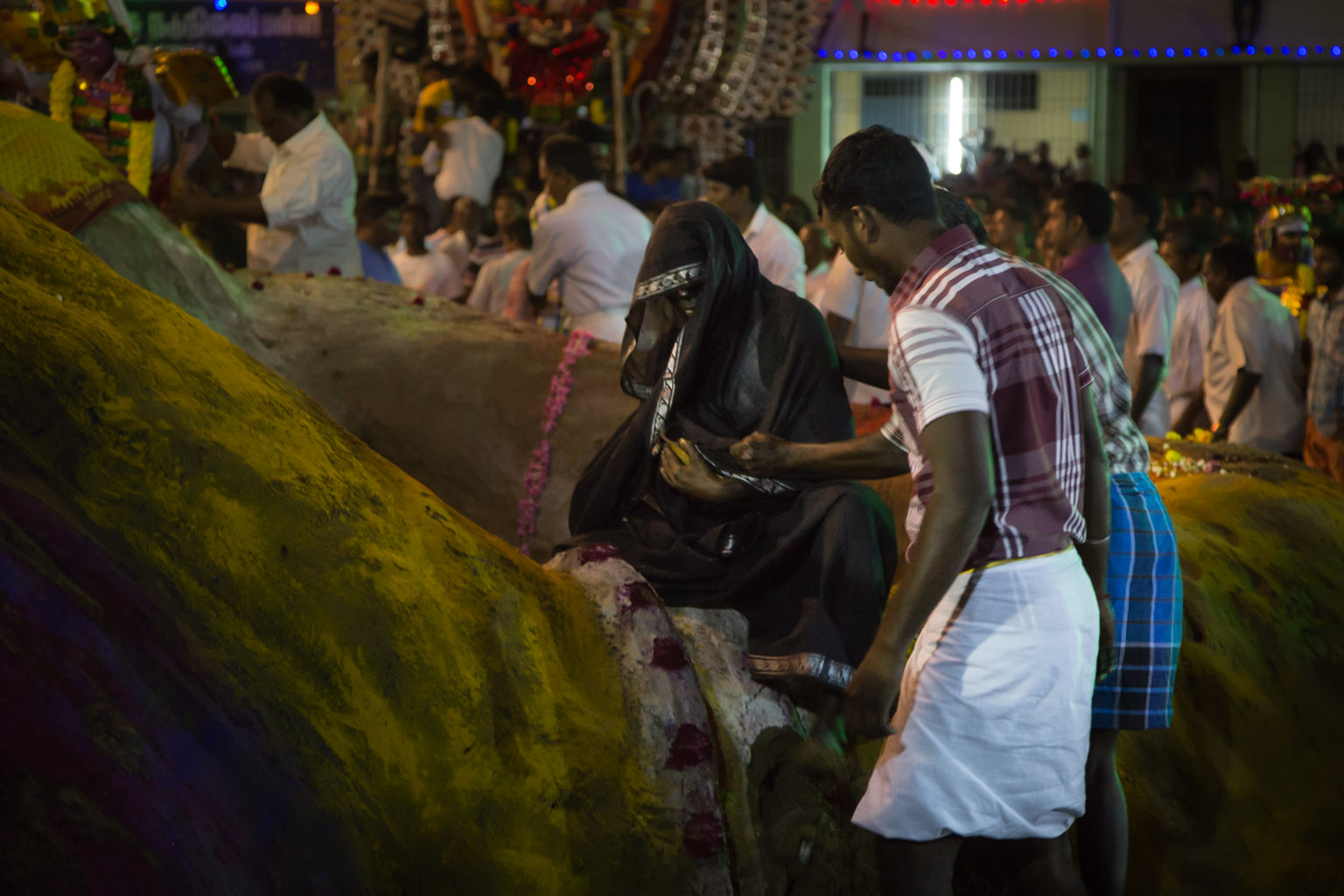 Policemen with their typical french kepi made sure that the drunkest of participants were taken care of and one of my best bodyguard kept telling me "watch out! Watch out! Very dangerous!". And in fact, a few minutes later the entire crowd threw itself as one on the black clad figure, pushing and pulling him, forcing him at the feet of the statue. Somewhat, a live chicken had made it to his hands during all this confusion. As soon as he was lifted on the statue he was propelled by a series of men through the arms of the kneeling kings and as soon they collided and passed the fowl the entire mass jumped at once on the statue, destroying its coarse decorations: in a matter of second they reduced the sand statue to a shapeless sand mound.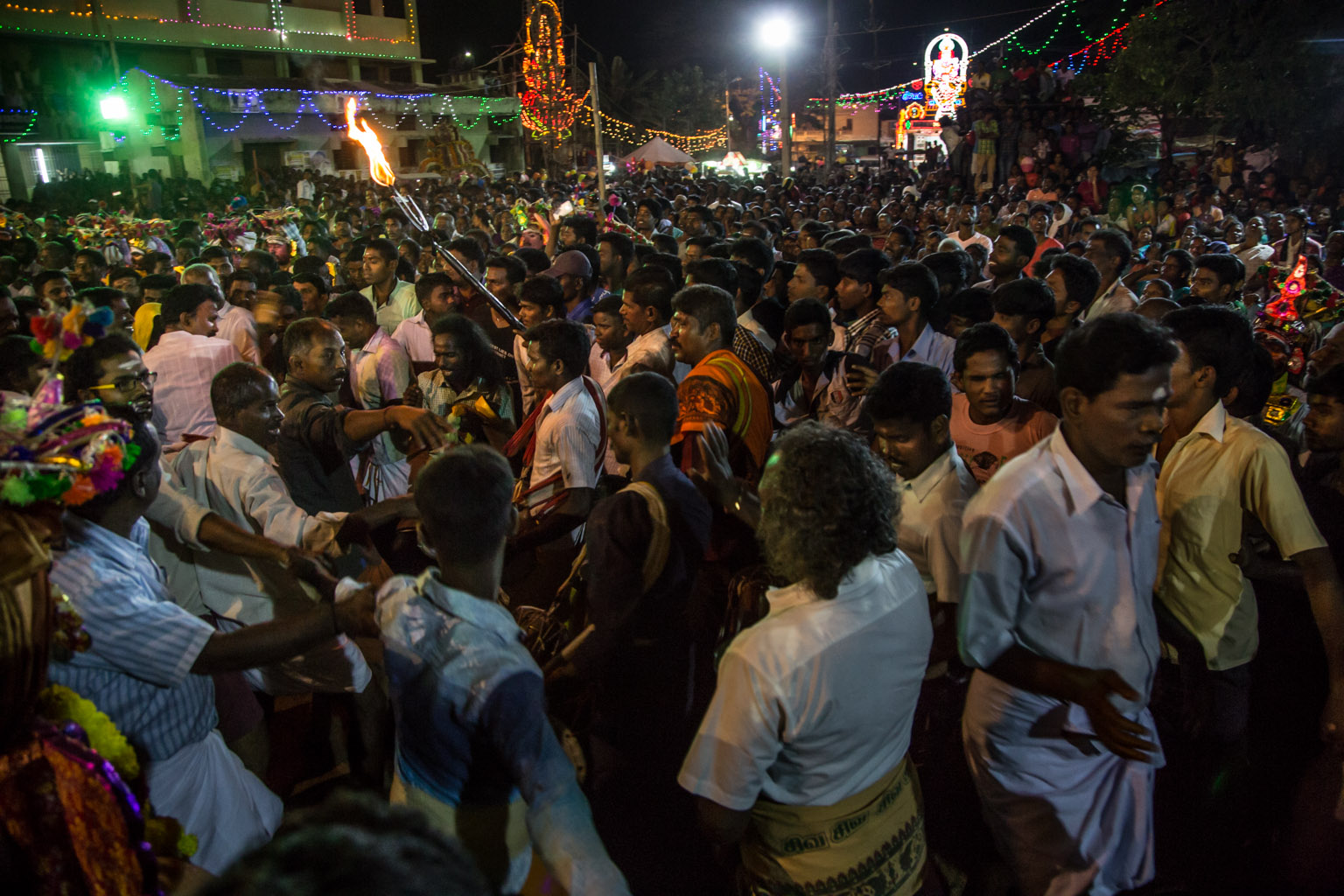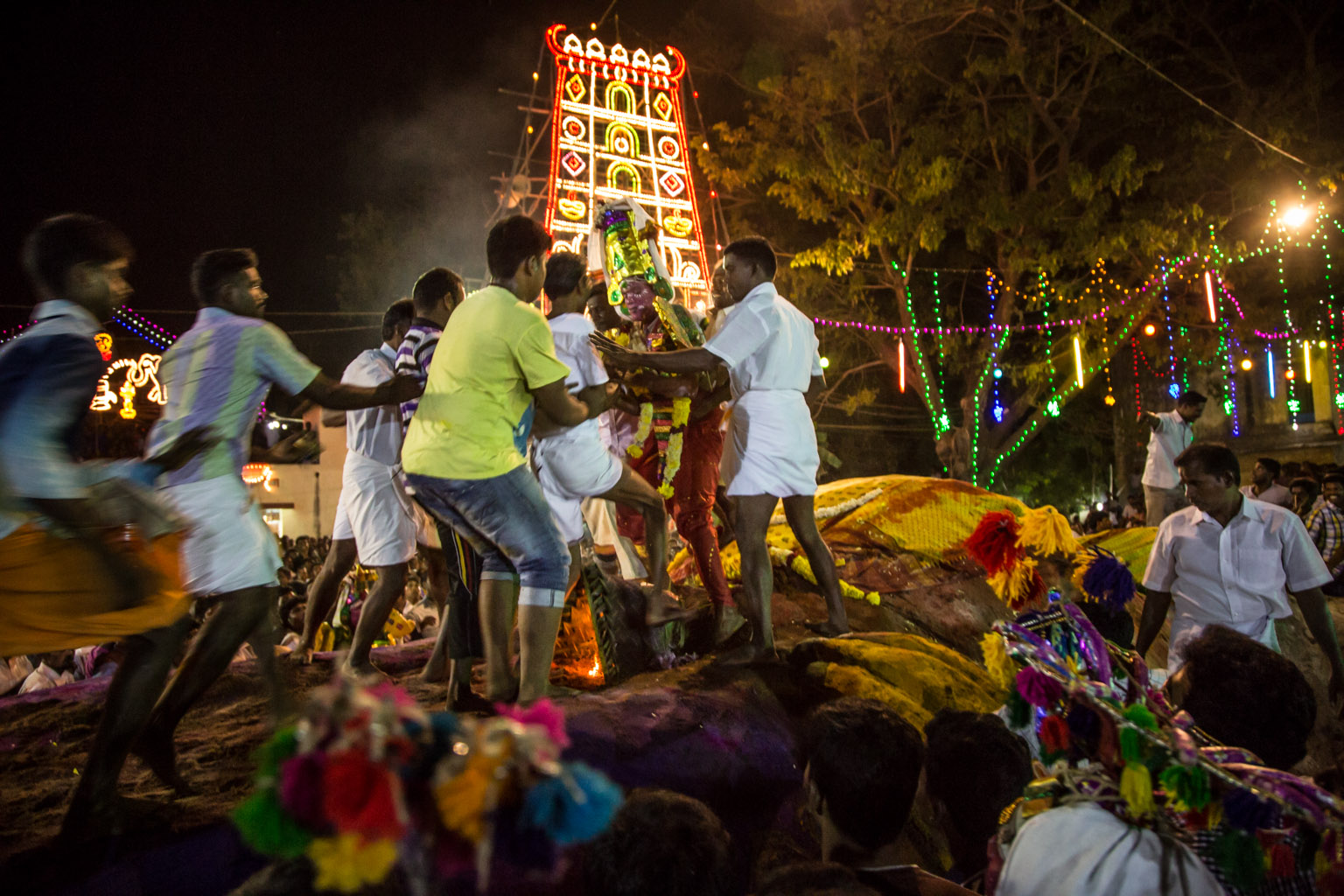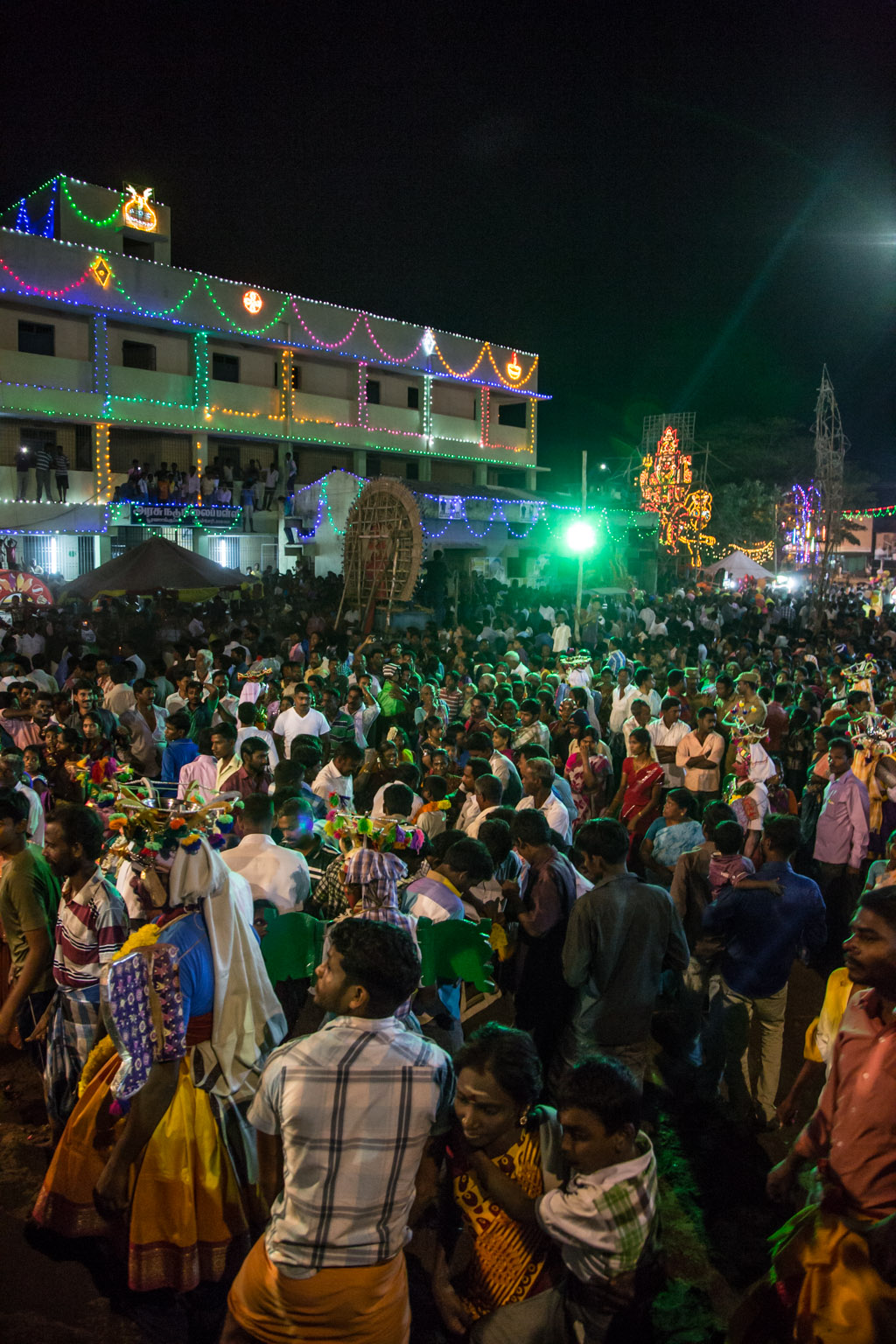 The confusion was great, taking pictures without being pushed or charged at was quite a task! The king on the pregnant belly made it off the statue just a fraction of a second before countless other people took its place in their devastating rage. Of course, with every Indian festival, a series of superloud firecrackers started exploding, even in the temple itself, creating a deafening resonance and filling the atmosphere with a thick layer of smoke.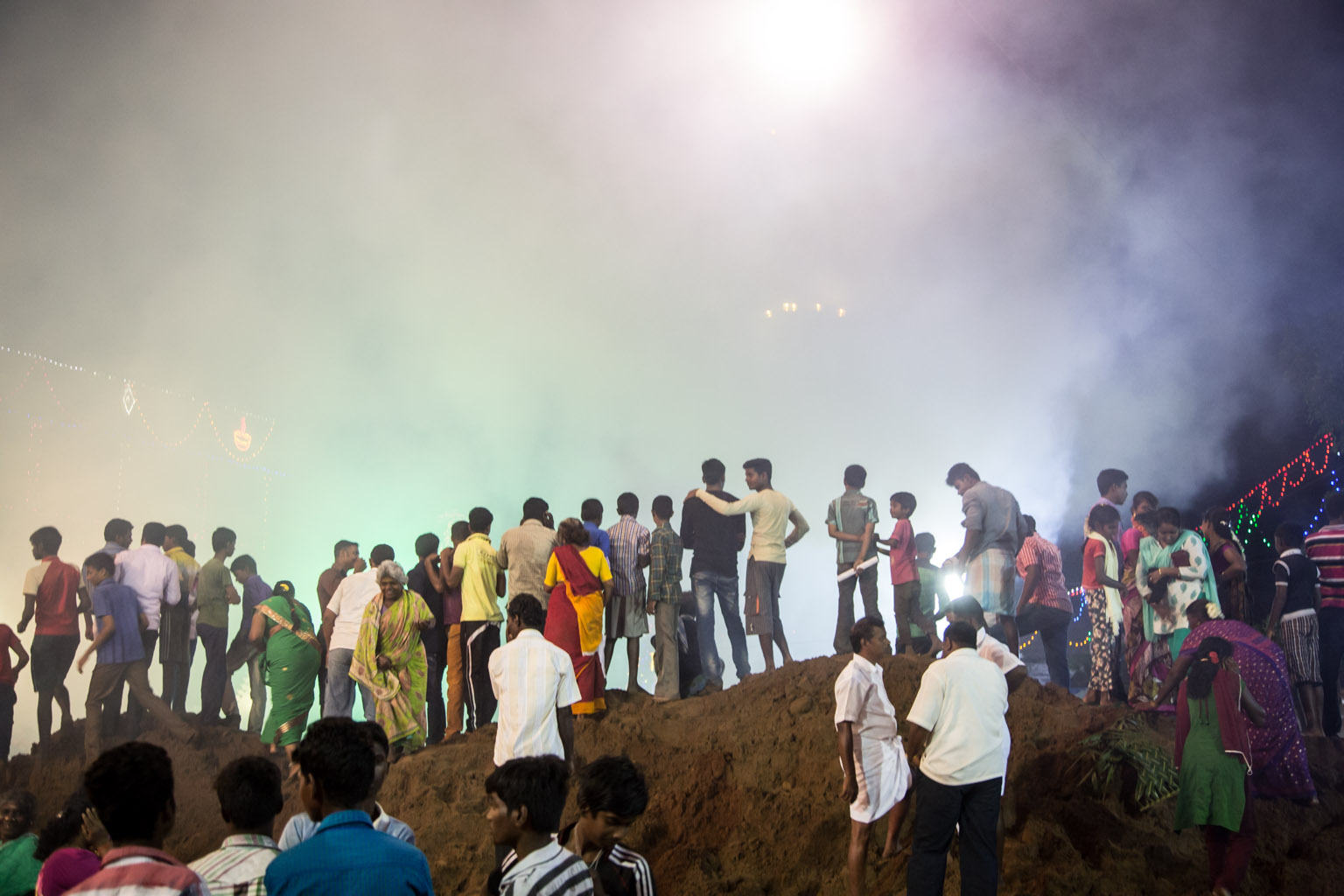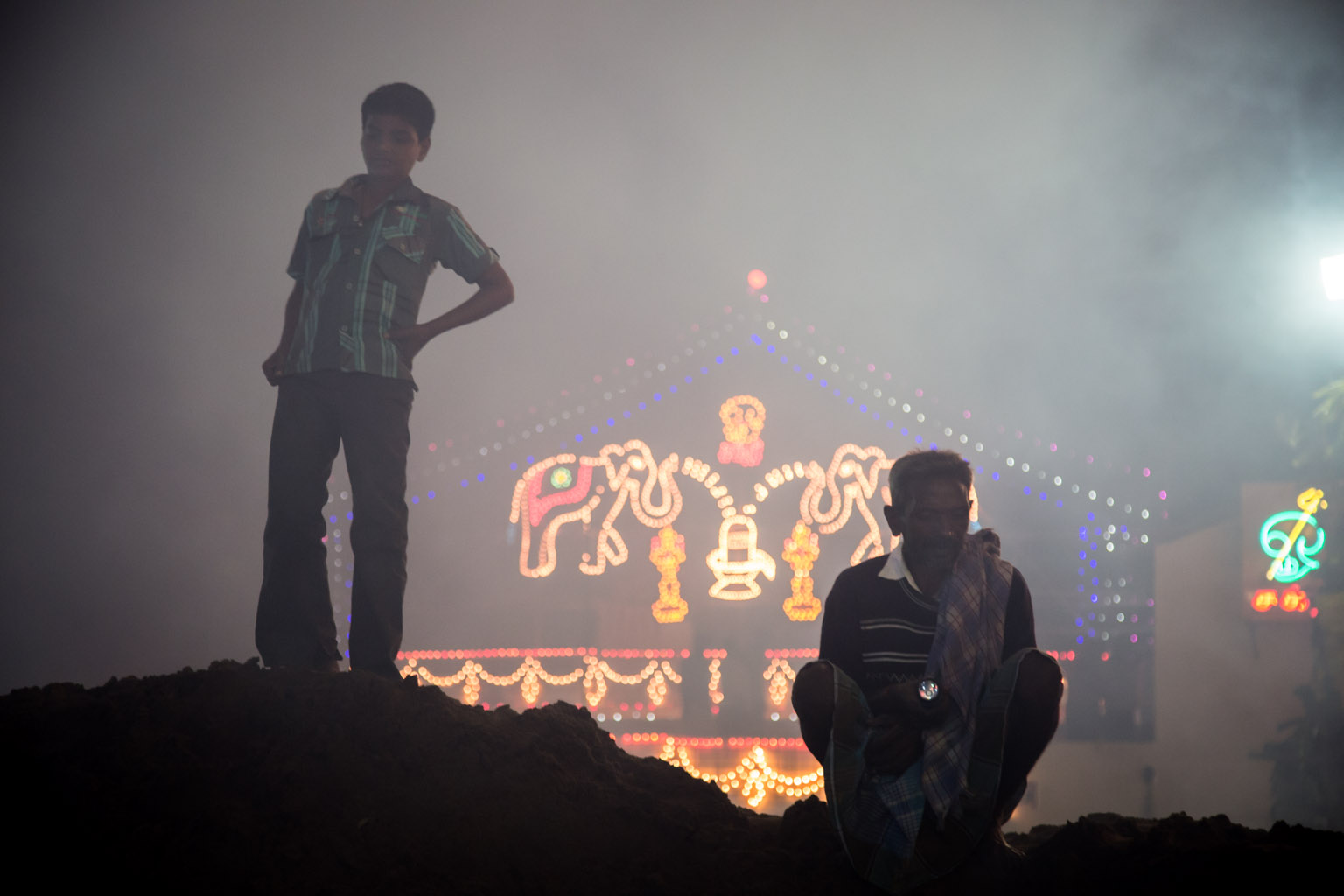 The situation calmed down as rapidly and a lot of people attended the mound of sand to take away some of the sand as a sacred souvenir of the festival and families gathered to go back to their homes.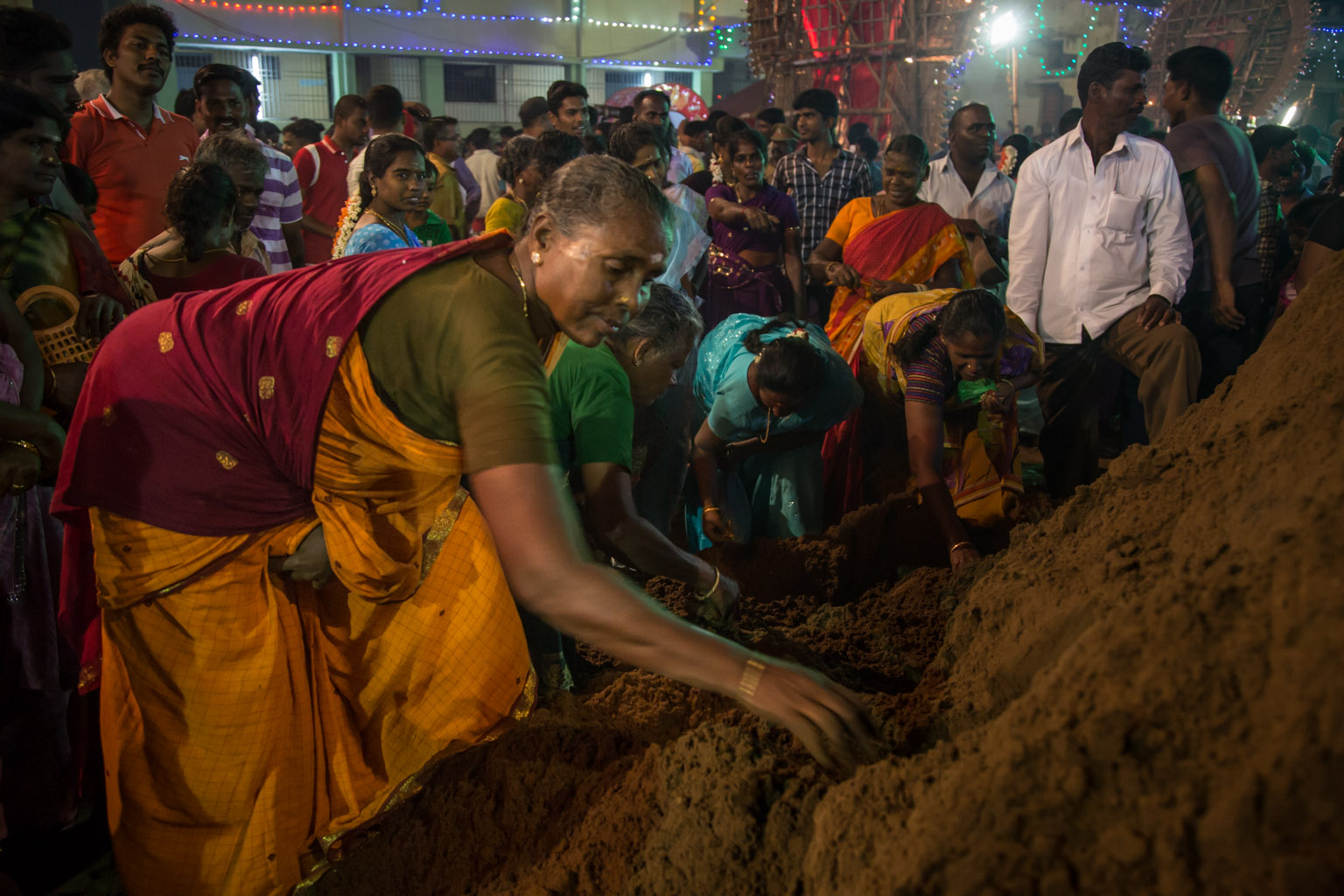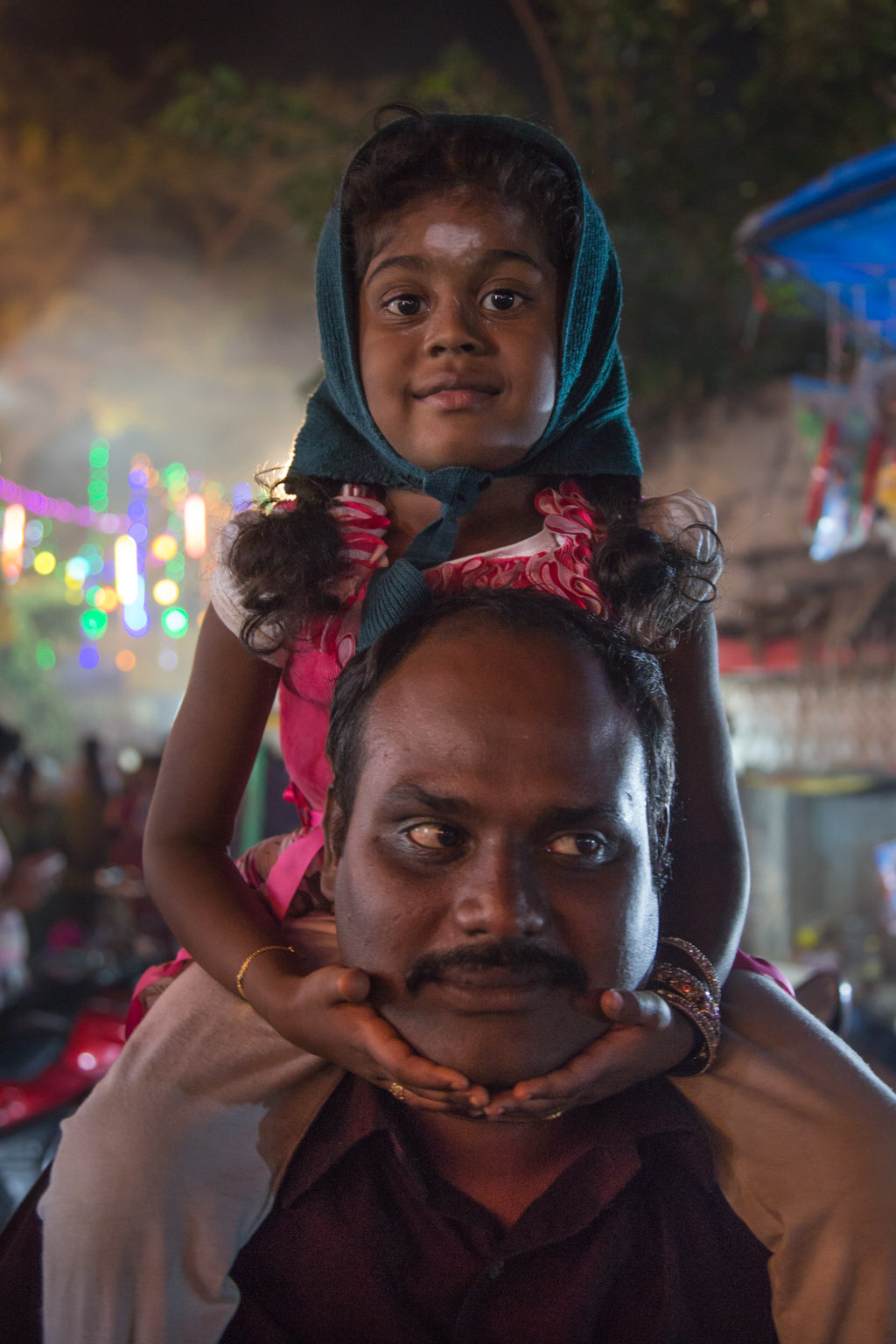 I incredibly managed to left the place unscathed!